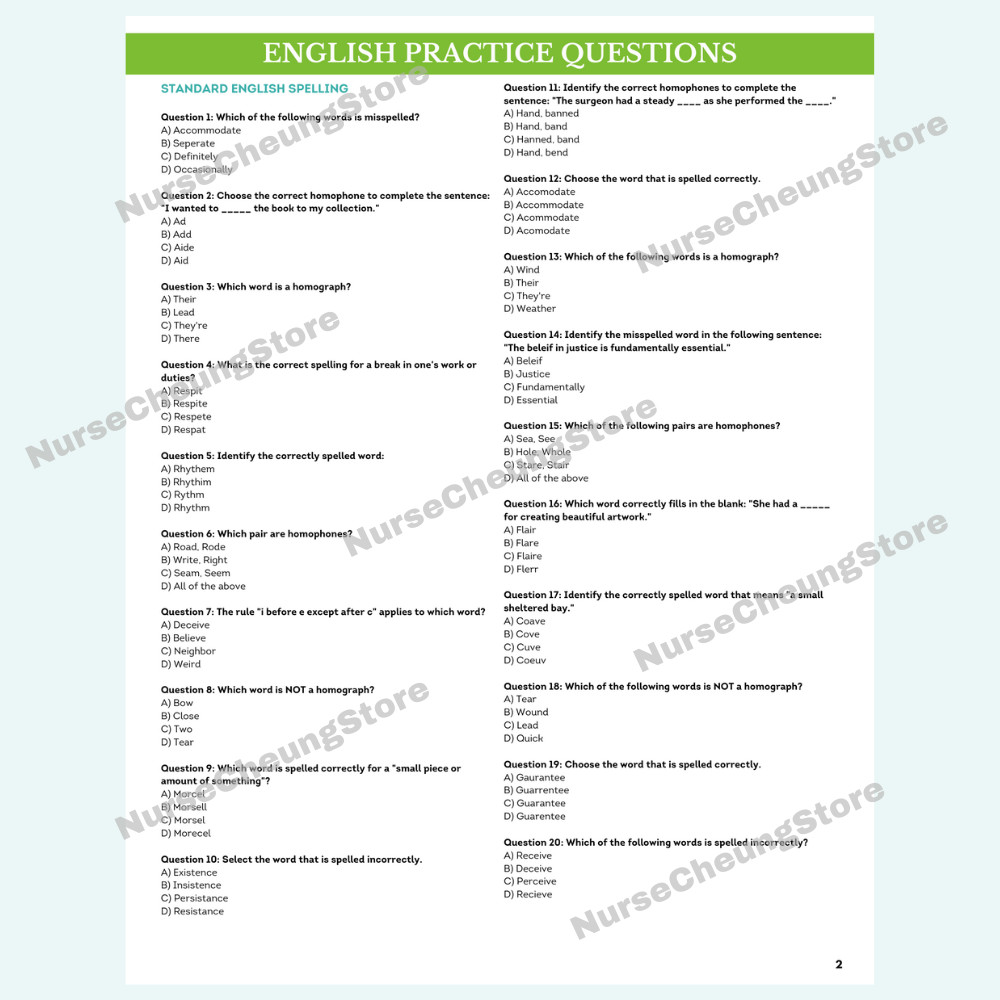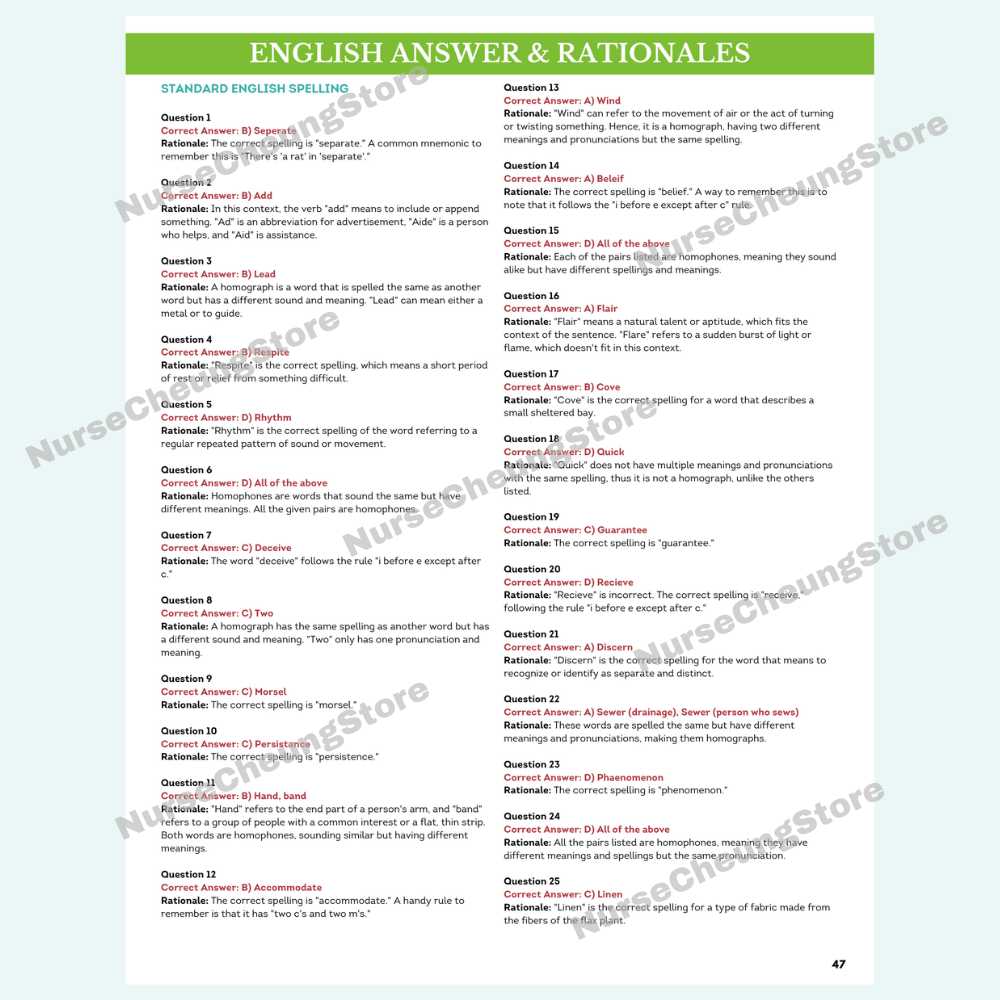 850+ ATI TEAS V7 English Practice Questions by NurseCheung - Comprehensive Review for Success - (DIGITAL DOWNLOAD)
---
Become proficient in the ATI TEAS English section with over 850 practice questions meticulously crafted by NurseCheung. This 87-page digital guide is designed to comprehensively cover the conventions of English, knowledge of language, and vocabulary acquisition, offering you an excellent platform to hone your skills and excel in your upcoming exams. It's the perfect tool for pre-nursing and healthcare students eager to successfully enter their chosen college programs. These questions are the brainchild of a Nursing Educator with a Master's Degree, actively shaping the future of healthcare. Harness her expertise to forge your path to success!
Questions covered include:
English Spelling
English Punctuation
Correct Sentence Structure
Nouns
Pronouns
Verbs and Verb Tenses
Adjectives and Adverbs
Prepositions, Conjunctions, and Interjections
Subject, Predicate, Modifiers, and Complement
Direct Objects and Indirect Objects
Complete, Incomplete, and Imperative Sentences
Transitions Words
Diction and Run On Sentences
Evaluating if Language Meets the Needs of an Audience
Formal and Informal Lanuage
Develop an Organized Paragraph
Basic Writing Process
Capitalization
Root Words, Prefixes, and Suffixes
Context Clues
Why Choose Our Guide?
🌟Expertly Curated Content: Crafted by Nurse Cheung, a seasoned Nursing Educator with a Master's Degree, ensuring that the content is both academically rigorous and grounded in real-world nursing experience.
🌟Practice Makes Perfect: Comes equipped with 1,050+ practice questions, designed meticulously based on the actual ATI TEAS outline. Provides an opportunity to test knowledge and prepare for the kind of questions you'll encounter on the exam.
🌟Digital Convenience: As a digital download, the guide offers immediate access upon purchase, letting you begin your studies without delay.
🌟Value for Money: Priced at just $15, it offers a wealth of information and preparation material at a fraction of the cost of other resources. Considering the quality and breadth of content, it's a worthwhile investment for your academic and career trajectory.
🌟Targeted Preparation: Aimed specifically at pre-nursing and healthcare students, ensuring that the content is tailored to those seeking to excel in their college programs. Offers not just theoretical knowledge, but also actionable insights and tips that can make the difference between a good score and a great one.
Elevate your TEAS prep and walk into the examination room with confidence. When you combine your dedication with our expertise, success is just around the corner. #NurseCheung #TEASV7 #NursingExam


Digital Download Information:
Once purchased, a download link will be sent to your registered email.
Please note, this is a digital product. No physical item will be shipped.
Make sure to save your download. Due to its digital nature, no refunds will be possible once the product is downloaded.
Compatible with most devices. Ensure your device supports PDF format.

*For Personal Use Only: Sharing, distributing, & reselling is forbidden*