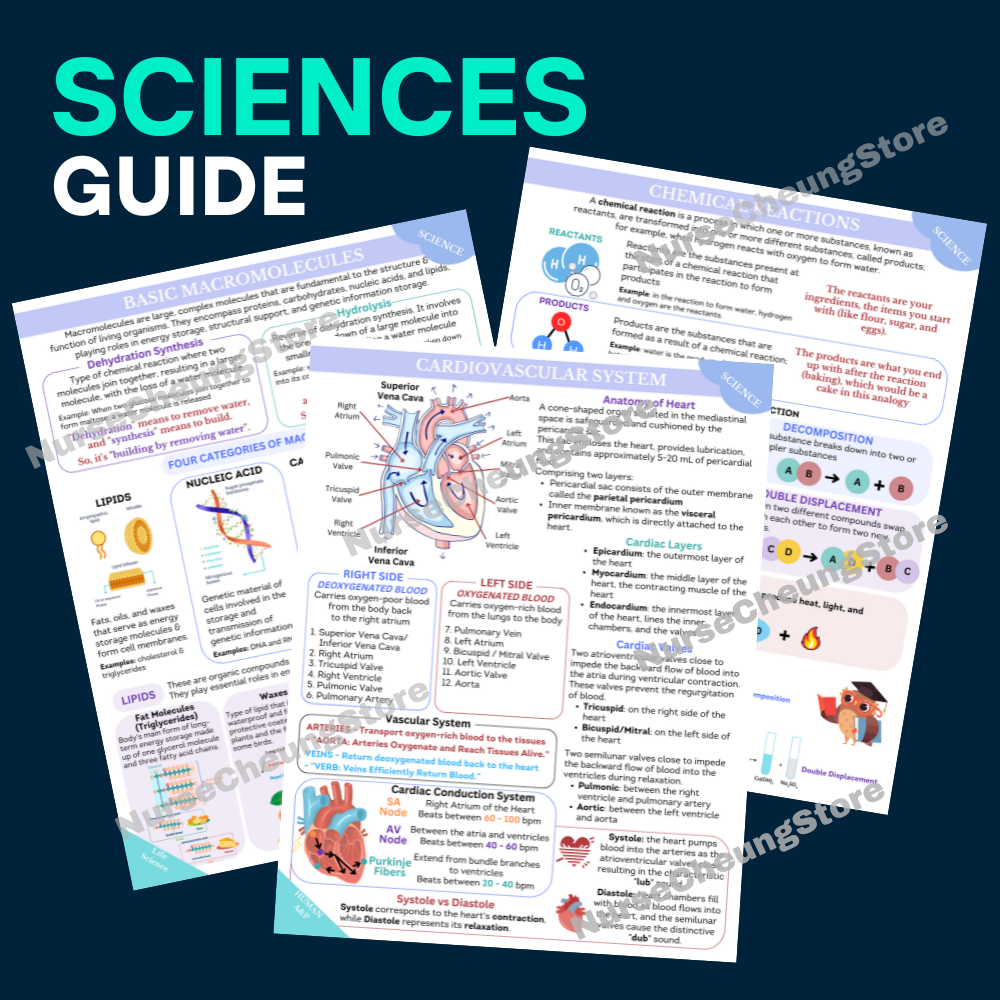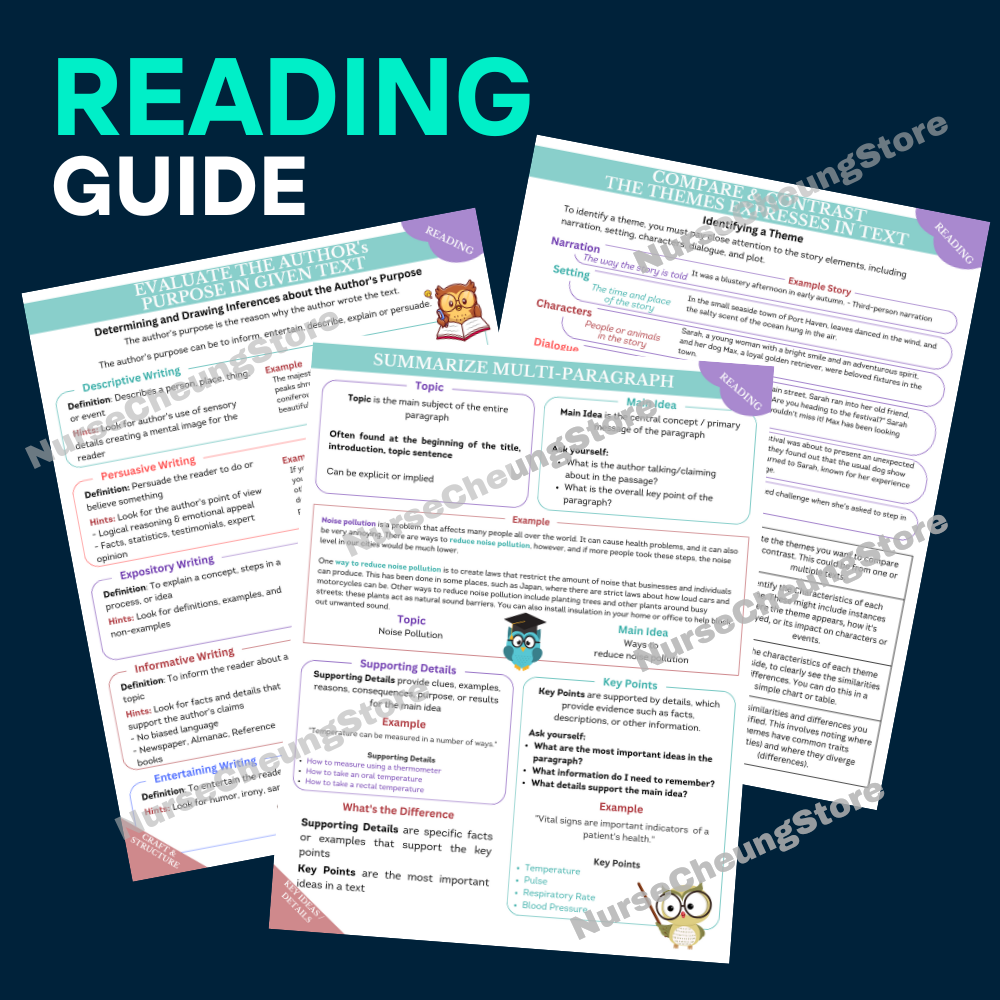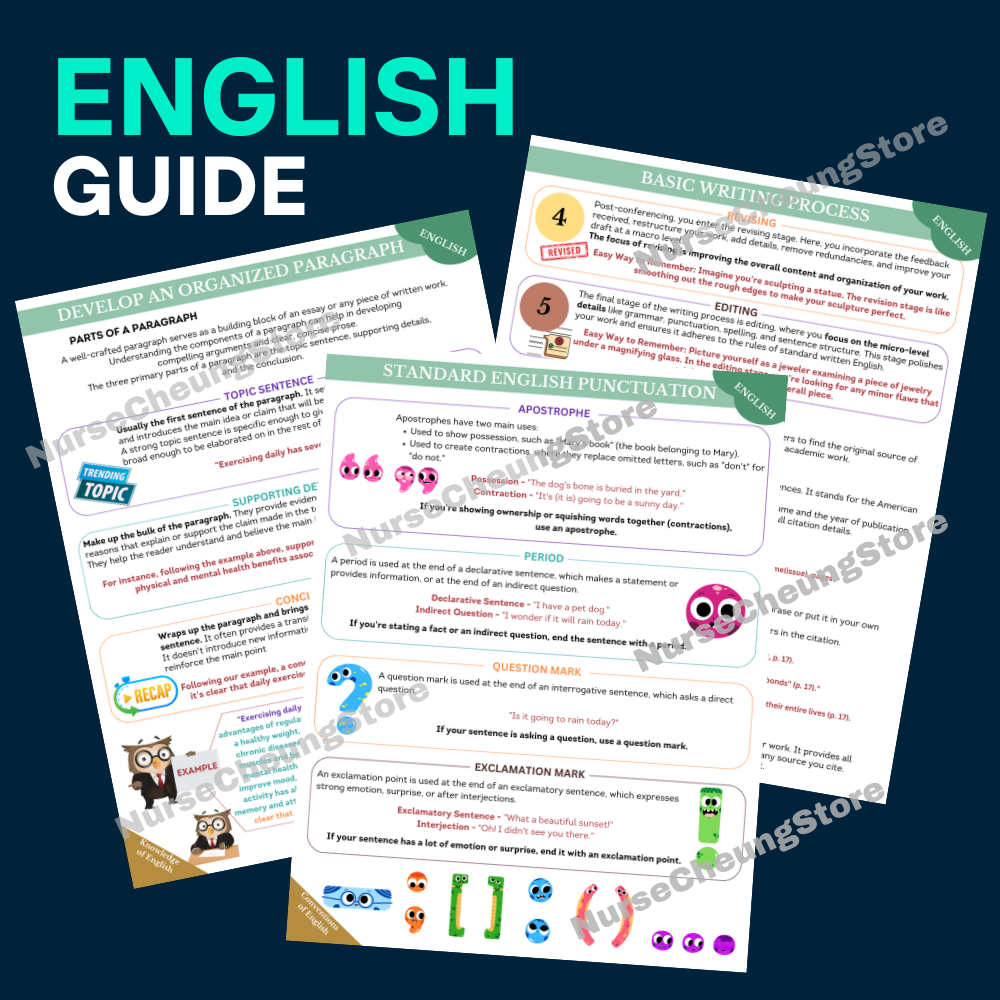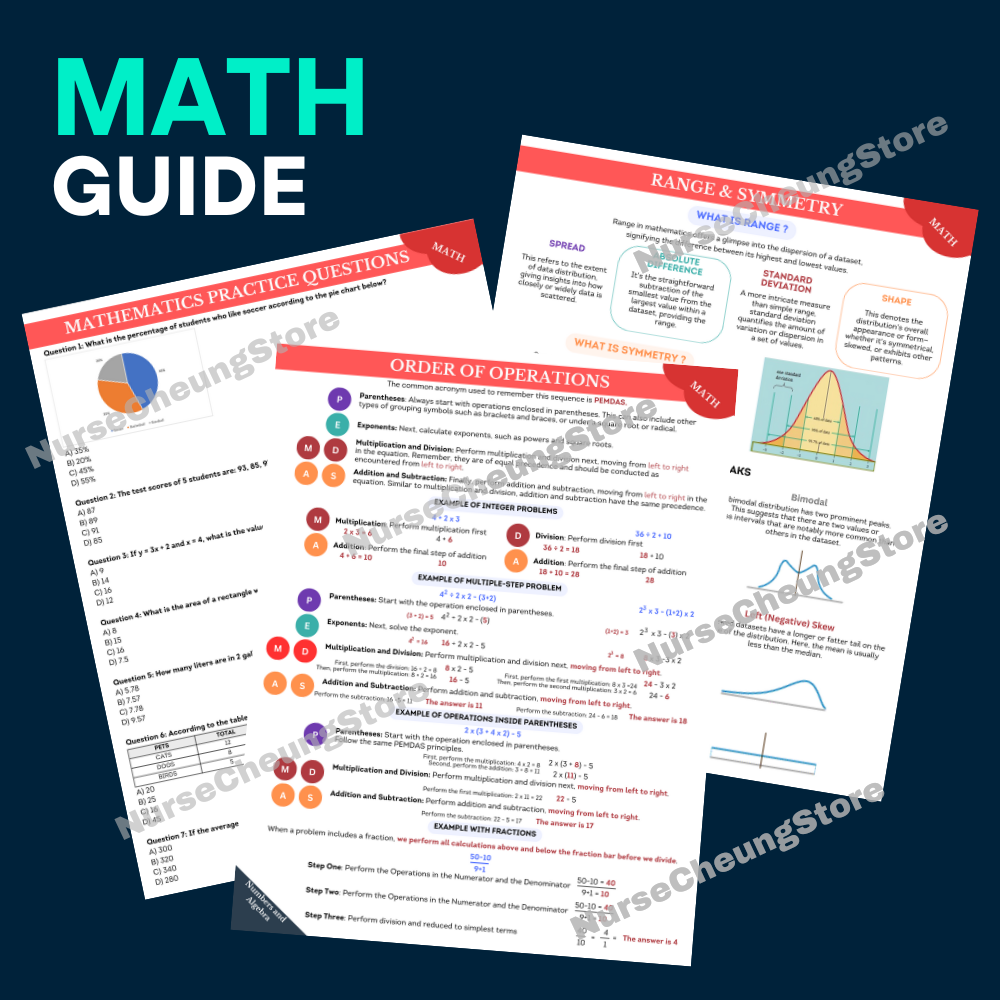 Complete ATI TEAS V7 Study Guide by NurseCheung: Your Pathway to Academic Success - DIGITAL DOWNLOAD + 170 Practice Questions
---
Master the ATI TEAS V7 with Nurse Cheung's comprehensive 161-page study guide, your all-in-one resource to excel. This exhaustive guide is split into four easily downloadable sections, ensuring seamless study across topics. With 170 expertly framed practice questions based on the ATI TEAS outline, this guide promises unparalleled depth and clarity. The inclusion of vivid images, memory-enhancing mnemonics, and practical examples make studying efficient and engaging.
Topics covered include:
ATI TEAS READING
Summarizing Multi-Paragraphs

Topic Versus Main Idea
Support Details vs Key Points
Inferences and Drawing Conclusions
Comprehend Written Directions
Missing Information and Contraindications
Locate Specific Information
Interpret Charts and Graphs
Facts vs Opinions
Misconceptions and Biases
Meaning of Words and Phrases using Context
Evaluate the Author's Purpose in Given Text
Evidence to Make Predictions, Inferences, and Draw Conclusions
Compare and Contrast Themes Expressed in Text
Evaluate an Argument
ATI TEAS MATHEMATICS
Fractions, Decimals and Percentages
Order of Operations
Rational and Irrational Numbers
Algebraic Equations
Solving Real-World Problems
Estimation and Rounding
Proportions 
Ratios and Rates of Change
Expression, Equation, & Inequality
Tables, Charts, and Graphs
Mean, Median, and Mode
Range and Symmetry
Data Trends & Probability
Variable Relationships in Math
Perimeter and Circumference
Area
Volume
Standard System vs Metric System
ATI TEAS SCIENCE
Anatomical Terminology and Positions
Respiratory System
Cardiovascular System
Gastrointestinal System
Neurological System
Muscular System
Reproductive System
Integumentary System
Endocrine System
Urinary System
Lymphatic System/Immune System
Skeletal System
Biological Hierarchy of the Body
Cell and Cell Structure
Mitosis and Meiosis Process
Genetic Material & Protein Structures
Mendel's Law of Inheritance
Punnett Squares
Dihybrid Cross
Non-Mendelian Inheritance
Basic Macromolecules
Micro-organisms in Disease
Basic Atomic Structure
Periodic Table
Breakdown of Orbitals and Valence Electrons
Ionic and Covalent Bonds
Physical Properties of Matter and How they Change
Chemical Reactions and How to Balance them
Moles in Chemical Reactions
Conditions Affecting Chemical Reactions
Chemical Equilibria
Understand Properties of Solutions
Hydrophilic vs Hydrophobic Solutions
Osmosis and Diffusion
Active vs Passive Transport
Concepts of Acid-Base Balance
Metric Conversions and Scientific Measurements
Scientific Tools for Measurements
Scientific Explanation for Drawing Conclusions
Cause vs Effect; Correlation vs Causation
Experiment Variables
Predicting Relationships Among Events, Objects, and Processes
Identifying a Relevant Hypothesis
ATI TEAS ENGLISH & LANGUAGE USAGE
Standard English Spelling and Rules
Plural Spelling Rules
Standard English Punctuation
Correct Sentence Structures
Use Grammar to Clarify in Writing
Simple vs Progressive vs Perfect Tenses 
Diction and Run On Sentences
Evaluation if Language Meets the Needs of an Audience
Formal vs Informal Language 
Develop an Organized Paragraph
Basic Writing Process
Determine the Meaning of Words using Prefixes, Suffixes, Affixes, and Root Words
Why Choose Our Guide?
🌟Expertly Curated Content: Crafted by Nurse Cheung, a seasoned Nursing Educator with a Master's Degree, ensuring that the content is both academically rigorous and grounded in real-world nursing experience.
🌟Practice Makes Perfect: Comes equipped with 170+ practice questions, designed meticulously based on the actual ATI TEAS outline. Provides an opportunity to test knowledge and prepare for the kind of questions you'll encounter on the exam.
🌟Digital Convenience: As a digital download, the guide offers immediate access upon purchase, letting you begin your studies without delay.
🌟Value for Money: Priced at just $60, it offers a wealth of information and preparation material at a fraction of the cost of other resources. Considering the quality and breadth of content, it's a worthwhile investment for your academic and career trajectory.
🌟Targeted Preparation: Aimed specifically at pre-nursing and healthcare students, ensuring that the content is tailored to those seeking to excel in their college programs. Offers not just theoretical knowledge, but also actionable insights and tips that can make the difference between a good score and a great one.
Elevate your TEAS prep and walk into the examination room with confidence. When you combine your dedication with our expertise, success is just around the corner. #NurseCheung #TEASV7 #NursingExam


Digital Download Information:
Once purchased, a download link will be sent to your registered email.
Please note, this is a digital product. No physical item will be shipped.
Make sure to save your download. Due to its digital nature, no refunds will be possible once the product is downloaded.
Compatible with most devices. Ensure your device supports PDF format.

*For Personal Use Only: Sharing, distributing, & reselling is forbidden*